Are you waiting for a welcome? Well here it is!
Welcome to the PvXwiki!
To learn the code can be tricky!
But we we know that once you get the hanggggg
You'll fall in love
And never want to changggge!
To guru or to guildshack
Cause all of them there are comin baaaack
To the true home of buillllldddds
The PvXWikiiiiiiiiiiii!
All credit goes to
Krowman.
Userboxes
Me
Hey, I'm StarSeeker, also known as Shinoda on the GuildWiki. If you ever see someone walking around with Starseeker in his name, its probably me. Known as an Assassin and Ranger player, I enjoy thinking up weird and innovative builds. Just got to make them work. Picking up on Mesmer lately, just got to polish my interrupting, planning and cycling targets some more. I've monked too much, I lost my Ranger reflexes. D:
(Current) favourite skills:
My stuff
Build ideas
Some random ideas, some are rather gimmicky. Feel free to discuss on my talk.
Warrior Blindbot ftw
Never mind.
MoM?
lolwut? MoM is kinda iffy, since it welcomes you to use spells from multiple elements... But that won't work with your energy managment, since using GolE cancels MoM. Still looking for the best combination. Maybe dropping the bonds idea entirely is the best idea. That way the +2 pips might make up for no GoLE/Attune.
Hm
My twisted take at a Deadly Arts assassin.
Good ol' Deadly Arts spike, without DA
Actually deadly, one man, spiking power again. Pretty clumsy chain though. I'd rather bring "Find Their Weakness!", but you'll either need an IAS or an other dagger attack instead of FS in that case.
Mark of Insecurity Assassin split
Little play on the standard assassin split. Requires close coordination:
Against NPCs, the first asssassin hexes with MoI. Both rush in with Dash, first assassin starts combo, second assassin kicks in with FS during Trampling's knockdown. Alternate Impale. The combo has low cooldown, and decimates NPCs.
Against base defenders: both rush in with Dash, first assassin hexes with MoI. Consider waiting 'till important enchantments or stances have ended due to MoI. Rigor Mortis in case the target blocks. Both assassins fire off combo, wait with Trampling 'till the knockdown from Palm has ended. Also works on flagrunners.
Use Restful Breeze and Touch on both sins as needed. Cooldown for NPC's is 10 seconds, for defenders probably about 20. This gives you a resillient, fast killing and hard to counter split.
ARE ASSASSIN SPLITS DEAD?
WC DA
Minimize downtime, maximize kills. Start chain with either Palm or WC. GvG only, or switch out Dash for Res for arena use. Optional for any fast condition inducing skill (or hex), with a nice side effect; eg Rip Enchantment, Aura of Thorns, Crippling Dagger, Augury of Death, Shadow Fang or any condition dealing spear attack.
Classics
This stuff makes my eyes watery.
Sweet, sweet RA prince
I farmed quite some faction and glad points with this. Not entirely dead, but the Warmonger's nerf sure hurts it.
Killed due to Glowing Ice nerf. It got into Great... But hell. Was damn fun.
Emo Flag Runner
I miss it :'\ YEEEESSS!!
MADNESS?!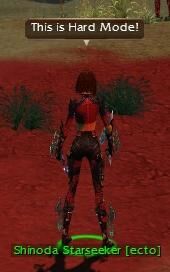 Community content is available under
CC-BY-NC-SA 2.5
unless otherwise noted.